Contact information of Aimer Corporation:
Address: 3250 McKinley Dr., Santa Clara, CA 95051
Tel: (408) 260-8588
Fax: (408) 260-9539
Email: johnt@aimercorp.com

-Factory Photo Gallery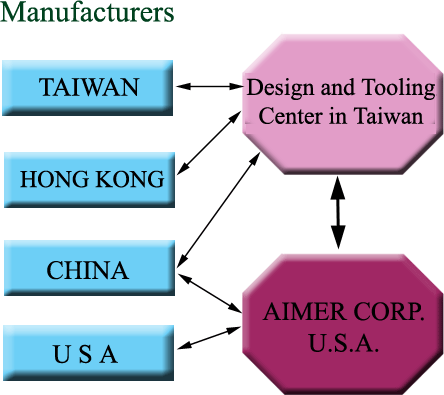 Aimer Corporation was founded in 1994 to help OEM companies develop effective procurement/sourcing programs. Our senior management staffs has averaged over 20 years experiences of program management and technical expertise with various hi-tech companies in USA and abroad.
Outsourcing of the manufacturing and engineering services have resulted in significant cost reductions and have directly impacted the profitability of the customers.
We have successfully achieved various programs such as Printed Circuit Boards, Assembled Printed Circuit Boards, Connectors, and Cable Assemblies. In 1996, Contracted warehouses were established in Fort Worth, Texas and Limerick in the Republic of Ireland to provide better Just-in-Times services to the OEM customers.
In 1998, we established a strategic reationship with a major Tooling company in Taiwan. At the same year, a designated Technical/Engineering Review and Customer Service center in Taiwan was established to further enhance the technical/ customer services to our offshore customers.
Our core business has been involved with Prototype/Tooling development, Quick turn samples manufacturing, First article approvals, Production Prep, Production run, Production review for both Domestic and Offshore factories.